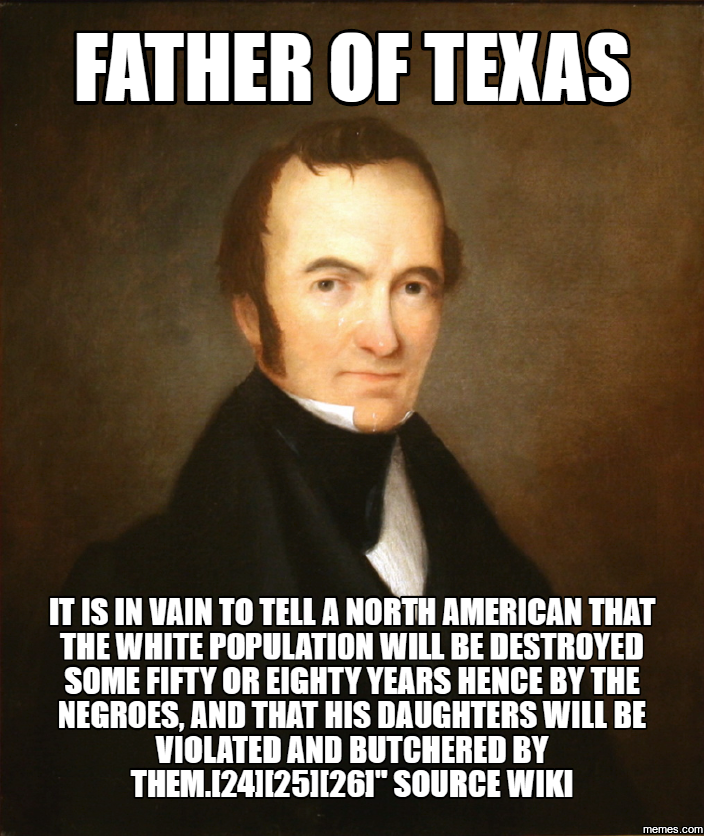 IT IS TIME WE CHANGE THE NAME OF THE CAPITAL OF TEXAS
I do not care what you call yourself, if you are advocating for the violent overthrow of our country, civil unrest, or illegally stock piling weapons, I fear you and want you in jail. The words of Stephen F. Austin justified the endless lynching of black men. What kind of state celebrates such a man. It is not the statute which offends, it is his words.
These words were said by the Father of Texas long before the Civil War. They have nothing to do with the confederacy. They emulate the pure and unadulterated hate used throughout this country for centuries, including the north. They are the justification for lynching black men. It was not too long ago a black man was lynched in East Texas, where Stephen F. Austin university is based. This is pure hate with no excuses. Will Texas change the name of its capital? No. Will they change the name of the university? No. Will the Democrats speak up on the issue? No. But odd, we ignore words of such extreme ignorance and hate, but a mere statute is what really offends. I am ashamed of Texas and have been for a long time.
My time in Texas is very short. Once my brother and Buster are gone, I am gone. I am looking at being an ex patriot in Peru or Ecuador, or a resident of Raleigh Durham.
Now I challenge my readers to send this to Oliviera, and the Lucios and see what they say. Hell even Congressman vela the fake Democrat will ignore it. He would prefer these words go unchallenged than offend the sensibilities of the ignorant.
i researched this quote and found it in many sources. Fake memes are a dime a dozen which is why I always verify the quote before I share or create one.