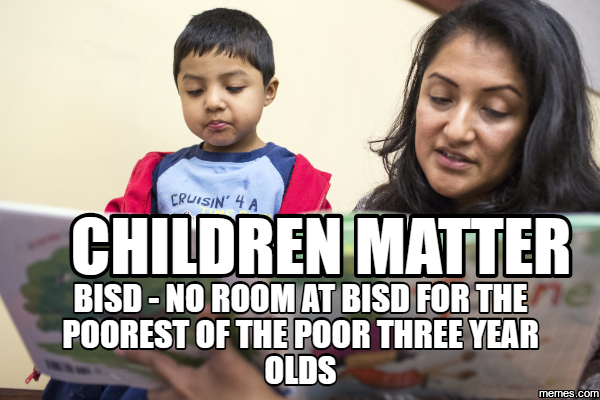 BISD HAS MONEY FOR EVERY BACKDOOR CONTRACT, AND INEPT PRINCIPAL AND ADMINISTRATOR, BUT NONE FOR THE NEEDIEST AMONG US
First a qualifier. The Administrator over the program has zero control over her budget and Board Policy. In speaking with her about this story she was extremely empathetic and professional. This is on the Board and the Board only.
When I first heard this story I was extremely skeptical. So I called to verify.
The children most in need of this program and who qualify for the program cannot attend unless they have transportation or live within walking distance of the school. BISD will not provide transportation to any three year old. They are using transportation as a way to limit access to the poorest of the poor and those most in need. I am looking into a formal federal complaint based on discrimination.
The child is devastated. For the mother to walk the child to school she has to travel down 48, and we all know how safe that is, down Boca Chica, then down Kings Highway. It is nearly an hour because of the U they must walk.
BISD has endless funds for sporting events and facilities but no funds for any three years old who needs the jump start to succeed in school. BISD is an endless circus of political payback resulting in millions of dollars in payouts for lawsuits and lawyers fees.
The entire Board should resign for failing to understand their priorities.
This policy attacks what BISD knows to be the poorest of the poor and most in need. BISD thinks because they are poor they cannot fight back. I will search high and low for both valid state and federal discrimination claims and help all of these families. This is wrong.
And true to form BISD will allot an endless payout to lawyers to defend their scam.