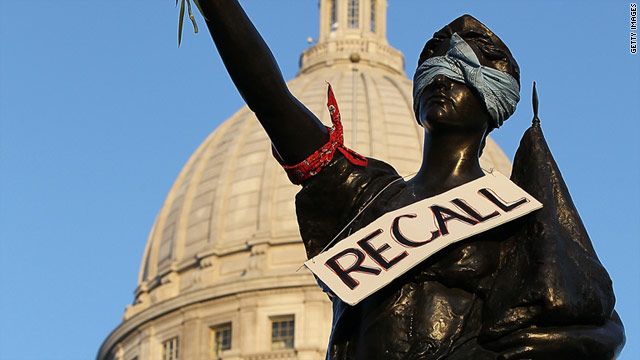 A RECALL OF MARTINEZ AND LONGORIA IS THE ONLY MESSAGE "WE THE PEOPLE" NEED SEND AT THIS POINT
BUT FIRST: BISD:
I have no idea what happened at last nights meeting. What I do know is indictments will be coming down in 2012. The new BISD Board will able to sue anyone the current majority conspired with and get back the money and then some. All we can do is wait - jail time is coming for some of the BISD Trustees. It is standard, indictments take 3-5 years. Be patient - justice is coming.
RECALL
Yesterday in Wisconsin over the union busting 2 of 6 targeted Republican state Senators were recalled. Not perfect, but it was something. Someone posted that under the rules we need to wait 6 months after the last swearing in of any commission the target of the recall. That would be November. This is not bad. It could take until November to put everything into place for a successful recall campaign. The unions need to be able to organize and commit their membership to walking the community for the signatures.
There is no doubt in my mind if the unions put their mind to it they will succeed in getting the signatures. On the actual recall I am 100% certain they will succeed as to Longoria. I admit Martinez could be a long shot, but merely putting him through the process will cause major damage. Further with the loss of Longoria he will become a lame duck mayor.
The message will have been sent to Gowen. The organization will be in place to insure she is sent packing in May 2013.
ZERO TOLERANCE FOR UNION BUSTING
If the unions fail to organize a recall then they deserve to have their unions destroyed. This is their battle. They must lead. But if they do lead, the BV will certainly be there helping them win the battle.